| US Players | Visit Room | Bonus | Promo Code | Review | Rating |
| --- | --- | --- | --- | --- | --- |
| Yes | | 100% – $2500 | n/a - use links | Review | 8.3 |
| Yes | | 110% – $1100 | 1169861 | Review | 8.4 |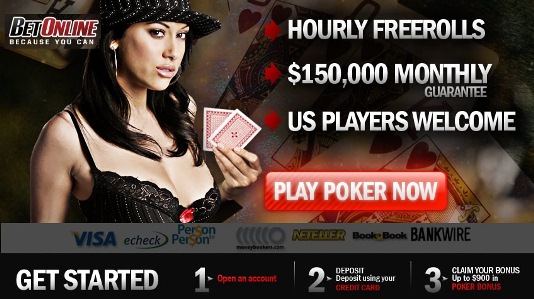 Join Bet Online and get a 25% instant bonus on all deposits!
Pokerstars Promo Code
No USA Players. There is a new Pokerstars promo code (bonus code) that allows new players to get a 100% up to $600 bonus! We don't know how long the new bonus will last, so sign up now and take advantage of it. To get the bonus, you'll need to write down marketing code TEN500 and bonus code Stars600. You will need to enter the marketing code when you register, and the bonus code when you make your first deposit.
For this bonus, players need to earn 17 VPP's per dollar in bonus, and have 6 months to clear as much of it as they can. Within the first 90 days after making your first deposit, you can make 2 more deposits that will also apply to the bonus. For example, if you make 3 separate deposits which total $550, you can get a $550 bonus. You do not have to deposit all $600 on your first deposit to be able to get all $600 – very cool.
The new bonus has easier clearing requirements for micro & low-stakes players. In the past, small pots did not earn Frequent Player Points for players. Now they do. Partial FPP's are now awarded for small pots, meaning that micro-low stakes players can earn the bonus.
The new bonus is paid in $10 increments, instead of one lump sum like the old bonus did. This is great for replenishing depleted accounts as you play. Unfortunately, it's a cash bonus and not an instant cash bonus like what online casinos award players with. If you want an immediate bonus, you can check out this site which lists the best online casinos for us players or try the new Sky poker promo code.
Pokerstars calls their promo code a 'marketing code', but whatever you call it, it's the same thing. During the registration and deposit process, players need to use both codes in order to get their bonus – be sure to write them down before you go to Pokerstars.
For those that play in $.25/.50 NL, $.50/1 FL or higher stakes ring games, the bonus is simple to earn. Tournament players that play in $5 or bigger buy-in tournaments can clear the bonus in reasonable time as well.
Pokerstars is the largest online poker room in the world. They have more tournaments, more cash games, and more promo events than anyone else. More information on the Pokerstars promo code.
Full Tilt Promo Code
US players welcome. Our Full Tilt Promo Code (IPOKERORG) will get you a 100% bonus up to $600. This bonus is great for those that are going to play a fair amount and make larger initial deposits. Also, for micro-low stakes players, the Full Tilt bonus is much easier to clear than the Pokerstars bonus. Full Tilt Poker calls their promo code a 'referral code'. To get your bonus, write down IPOKERORG and enter it into the field asking for your referral code during registration.
Full Tilt Poker has everything any poker player could want. They are the second largest online poker room and have so many promotional events it's difficult to keep track of them all. They host the popular online poker series called FTOPS, and are one of the best sites for WSOP satellite tournaments.
Full Tilt Poker offers the highest stakes ring games in the world, even bigger than Pokerstars. If you are a high-stakes player, Full Tilt Poker is for you. More information on the Full Tilt promo code.
Bodog Promo Code
US players welcome. No Canadian players. The Bodog promo code is embedded in our links, so there is no need to enter one during the sign up process. If you would like to make extra certain that you get your bonus, you can enter 1169861 when it asks for your 'referral number' during the registration process. That is our code, and although it is embedded in our links, it can't hurt to be redundant.
Our Bodog bonus is the best available anywhere online, which is 110% up to $1100. Using any of our Bodog links, players will get 10% of their initial deposit amount upfront – plus 100% more, up to $1000 as they play.
It's not just the bonus we like, the poker room itself is a great place to play. Bodog has loose players, fantastic (very unique) graphics, and they also give players the chance to convert Bodog Points into cash any time they choose. Bodog has great sit-n-go tournaments for beginner players, and the best heads-up tournaments online. Bodog also has good traffic for high-stakes cash game players. More information on the Bodog promo code.
Titan Poker Promo Code
No US players. Our Titan Poker promo code will get players a bonus of 100% up to $500. Write down Titan Poker Promo code IP500FREE before you go to Titan Poker. Titan does not allow US players, but their traffic is still huge. As the largest poker site on the iPoker network, there are tons of players and fun promo events at this room.
The Titan Poker bonus has reasonable clearing requirements and new players who deposit at least $50 on their initial deposit also get 5 free tokens to the New Player Freeroll Satellite tournaments. The New Depositor Freeroll Satellites offer players a chance to win a seat in the monthly $20,000 guaranteed New Depositor Freeroll. More information on the Titan Poker promo code.
Party Poker Promo Code
No US players. Using Party Poker promo code 25SUPER, players can get a bonus of 100% up to $500. The Party Poker bonus is a bit tough for low-stakes players to clear, but much easier for middle to high-stakes players. The bonus is paid in increments of 10% of your initial deposit bonus. So, if your first deposit is $300, you will get your bonus in $30 chunks. Players have 120 days to clear as much of their bonus as they can.
Party Poker is still a huge room. They have tournaments and cash games to fit any player. Party Poker also has a lot of promotions to keep players loyal and happy. More information on the Party Poker promo code.
What's a Poker Promo Code?
A poker promo code is the online equivalent to a brick and mortar casino perk. Instead of getting a steak shoved through your computer, online poker rooms give their players cash. To get your free cash, players need to enter their poker promo code during registration. While some online poker rooms call them promo codes, others call them 'bonus codes', 'marketing codes', or 'referral codes'. Bodog calls theirs a Bodog referral number, but it makes no difference. These terms are interchangeable, so don't worry if a room is asking you for a 'bonus code' – it's the same thing. When you sign up at any of the online poker rooms you find on this site, no matter what term the poker room uses, you can use our 'promo' code to get your bonus!
How much free cash can I get by using a poker promo code?
That depends on the poker room. Some poker rooms have small sign up bonuses, while others are huge. Using our poker promo codes, players can select from a variety of bonuses to go after.
Be sure to read the details about each promo code. Some online poker rooms cater their bonus for higher stakes players, while others are good for micro-low stakes players as well. For example, the Pokerstars promo code is great for getting some players an easy $50 bonus. For micro-low stakes players however, clearing the bonus can be close to impossible.
On the other side of the coin, the Full Tilt promo code and the Bodog promo code allow micro-low stakes players to earn bonus money in a reasonable amount of time. So, the moral of the story is, don't be attracted to a bonus just because of it's overall size. Make sure the bonus fits your playing style and will actually earn you some bonus.
When you decide on a poker room, be sure to write down the corresponding promo code. During the registration & depositing process, each room will ask for your poker promo code, so you want to have it ready when they ask for it.